Which printing technology to choose for your brand?
Do you run a print-on demand business and print on textiles? Or maybe you do intend to try? Choosing one of the available fabric printing methods can be difficult, but it is crucial if the effect is about to delight your customers. Read this article to get familiar with the most popular printing methods for clothing brands and home textiles designers. Find out which solution will be the best and most profitable for you.
From this text you will learn:
What clothing decoration method is best for your brand
What is screen printing and when to use it?
What is DTG and when is it used?
What are the methods of printing on a roll of material?
What printing method to choose for natural fabrics and which for synthetics?
Screen printing – for simple designs and big volumes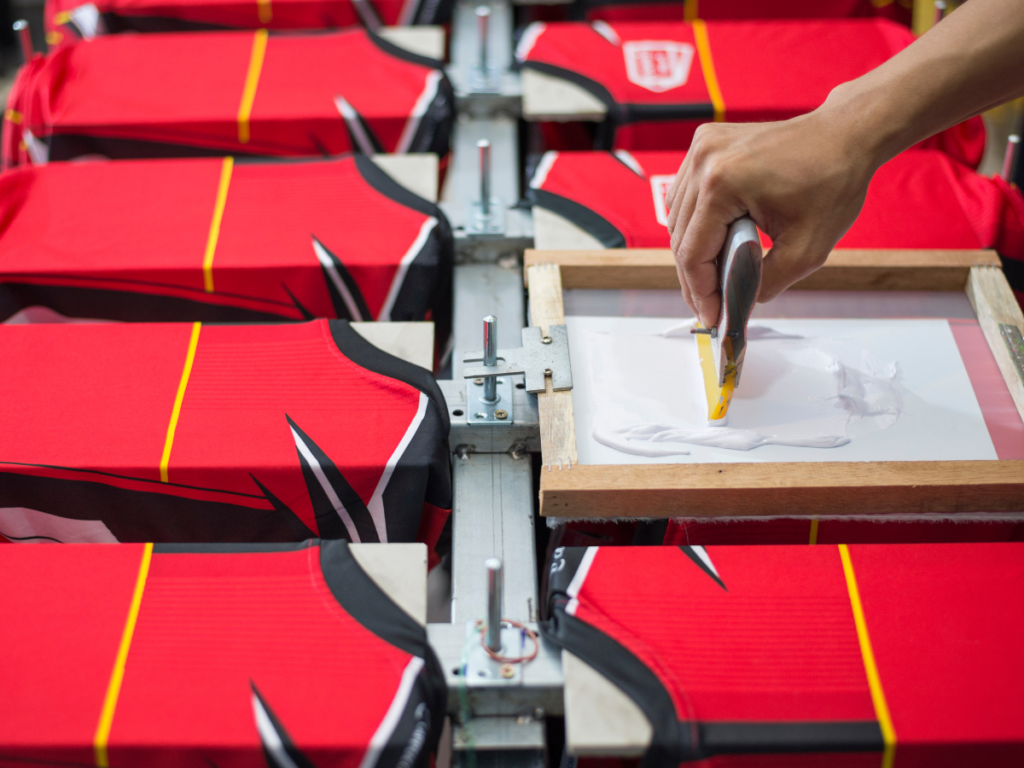 Screen printing is the process of pressing paint through a printing screen (made of a steel frame and a nylon mesh) to create a print on the fabric or ready-made product. The paint is pressed by the machine or manually through the screen.
Each color is a separate layer. Screen printing only prints one color at a time, like in a painting stencil. As a result, screen printing is not particularly recommended for multicolor prints. Digital printing is far superior in such cases.
Screen printing imposes many restrictions on what you can print, owing primarily to the way the colors are applied. During a single machine cycle, each color is applied individually on a separate screen in screen printing. Smooth tonal transitions from one color to the other are extremely difficult, and in many cases even impossible to achieve. It won't pass it exam when you plan to print some advance pictures and designs.
However, it may be a good solution for relatively simple shapes with a limited number of colors. The biggest advantage of this method is the possibility of overprinting coloured fabrics , like for example white patterns on black fabric, which brings some difficulties in the digital techniques.
The initial cost of this fabric printing method is high because the preparation of cylinders significantly raises the price.
Cost-effective when printing in bulk – as the number of goods produced increases, the price of a single unit noticeably decreases . Not suitable for printing individual pieces (and small volumes) due to the cost of screen preparation. Due to that – screen printing is definitely not suitable for printing individual pieces and small volumes.
DTG printing (direct to garment) – the best solutions for print-on-demand
DTG means "direct to garment". It is a decoration technology, that involves directly applying designs into a finished clothing product. Sewing occurs prior to the printing process, and the components are ready for use the moment they are removed from the printer.
DTG is a perfect method of clothing printing in print on demand, if you want to print on finished products such as t-shirts, sweatshirts, hoodies, tote bags etc.
In DTG technology, there is no need to prepare printing stincil or screens, which significantly reduces the cost of production, even with the single piece. Disadvantage of this solution is the limited print area. It depends on the machine, but usually you are limited to about 50×70 cm print surface. When you print on a garment that is not white, there's need to be use a white ink layer under your designs, which increase the final cost.
Roll-to-Roll (Direct to fabric) – Create Fashion on Demand
Roll-to-Roll printing (also known as Direct-to-Fabric printing) is a textile printing technique that involves printing directly onto a roll of fabric rather than directly on garments or other surfaces. Digital printing on fabric is recommended if you don't want yo be restricted by the already existing cuts. You can create what we called Fashion on Demand.
A Roll-to-Roll printer uses specialized ink to print directly onto the roll of fabric in this process. The ink is absorbed by the fabric and becomes a part of the finished product, preventing any print distortion such as cracking, peeling, or fading. Many textile applications are possible with roll-to-roll printing, ranging from home textile to activewear.
Our roll-to-roll printer is the fastest and most cost-effective way to print on textile, taking only minutes from the graphic file to the finished fabric and using a truly sustainable, waterless process.
We can print on demand anything you desire and assist you in creating stunning fashion and home decor collections. It is a complete solution for printing, softening, and drying – in one single step. The effect is perfectly soft and durable. Roll-to-roll printing method is a perfect, cost-effective alternative to reactive printing.
Reactive printing
Reactive printing is a method in which the layer of applied ink, which consists of reactive dyes, a binder, and specific heat-activated additives, is steamed and then washed to allow it to properly set.
Reactive printing enables retailers to achieve vibrant and accurate colors that remain durable after use, outdoor exposure, and other factors.
The reaction of the reactive ink to heat produces the high-quality results of this printing process, which is one of the reasons why reactive printing has become popular for printing on cotton garments.
However, this printing process require a fabric pre-treatment that would involve expensive chemicals and a significant amount of time. This makes it less profitable and longer method that our roll-to-roll technology, which can provide almost exact effect with a way less time and costs.
Dye-sublimation printing – for polyester and polyester blends
Sublimation printing entails printing a design on a special transfer paper with dye-based inks, then transferring the design to a garment with heat and pressure. Sublimation printing yields vibrant, long-lasting prints that resist fading and cracking.
The dye-based ink penetrates the fabric fibers, producing a long-lasting, high-quality print. All-over prints and designs that cover the entire garment are ideal for sublimation printing. The print can be seamless and continuous, creating a one-of-a-kind and eye-catching appearance.
Sounds great, but keep in mind its limitations.
This printing technique is most effective on polyester, polyester blends, and other synthetic fabrics such as nylon and spandex. It is incompatible with natural fabrics such as cotton, silk, and viscose. Because the ink is transparent and will not show up on darker fabrics, sublimation printing can only be used on white or light-colored garments. This method it perfect for decorating mugs, polyester sports wear and such.
Do you need a professional support in choosing the right clothing printing method for your e-commerce brand? Consult our Sales Team. Together we will find the best solution for you.