Do you want to monetize your designs? Try Print On Demand. On-demand printing is a business model that allows you to launch and scale an e-commerce business by converting your artwork into a custom product lines that you can sell globally. If the prospect of starting your own business appears overwhelming, here's some good news – starting your own print-on-demand business is completely risk-free. It doesn't require big upfront costs. All you need to focus on is marketing. There are no out-of-pocket expenses, and you only pay for what you sell. With on-demand clothing printing, you'll never have to buy or hold your own stock, print your own merchandise or handle your own fulfillment. That's what we do. Ready to get started? Learn how to create and sell custom products with print-on-demand with Print Logistic.
Set up your online store
One of the most important decisions that print-on-demand business owner have to make is which platform to use for their store. There are many e-commerce platforms and marketplaces available today that allow you to easily create your own store without any coding knowledge and then connect it with the suppliers of your products. Choosing between them is a common quandary for many entrepreneurs who are attempting to determine the best solution for their company. It's important to make a decision based on your needs, budget and skillset.
E-commerce platforms for Print On Demand
Marketplaces like Etsy are the simplest and quickest way. To get started, simply register and create your own store on their platform. The main benefit is that these websites have their own search engine, which can provide you with additional traffic. You don't have to deal with any technical issues or payment methods; simply use what they provide. You can keep an eye on and follow trends that emerge among other sellers. It appears to be a good starting point when you are completely new to the field. It is mostly free to create your own account. However, you have to pay some monthly subscription fee and you are charged for your transactions. You also don't have many options for branding your store and controlling traffic and audience.
If you want to build a strong brand and have analytical skills, you should use e-commerce platforms like Shopify, Presta, Woocommerce, Magento, and so on. They provide you with all of the resources you need to create a one-of-a-kind shopping experience for your customers. You can create a stunning website and track your visitors' movements. You can collect their email addresses and then use them in your marketing campaigns. In the beginning, you select your plan based on the size of your company. You pay a monthly fee, but all profits from your sails remain in your pockets. Some additional apps and features are fee-based, so you must factor their costs into your business plan. Be aware that if you start from scratch, you will need to invest time and money in marketing, as you will be on your own in terms of gaining traffic to your store.
Thanks to our custom direct API you can integrate your store with our system, no mather which e-commerce platform you'll decide to choose. If you'd rather stay with your own account on one of the marketplaces, you can still use our direct orders feature, and simply submit manual orders. LEARN MORE ABOUT OUR E-COMMERCE SOLUTIONS
Pick your products and decorating method

In Print Logistic we offer multiply decorating technologies, wide selection of fabrics, knitwear and white-label products. We are the official dealer of the Stanley/Stella – a manufacturer of ecological white label products in premium quality. We have the ability to create full prints on a variety of materials, such as cotton, linen, sapphire, viscose, satin and many others.We offer an exclusive Fashion on Demand service – you can design your own patterned fabric using our eco-friendly roll-to-roll technology and then create your own unique collection of clothing – including dresses, skirts, shirts and suits with prints, home textiles – curtains, upholstery, bedding. You don't have to limit yourself to products from the catalog. Just tell us what your needs are – and we will find a tailor-made solution for you.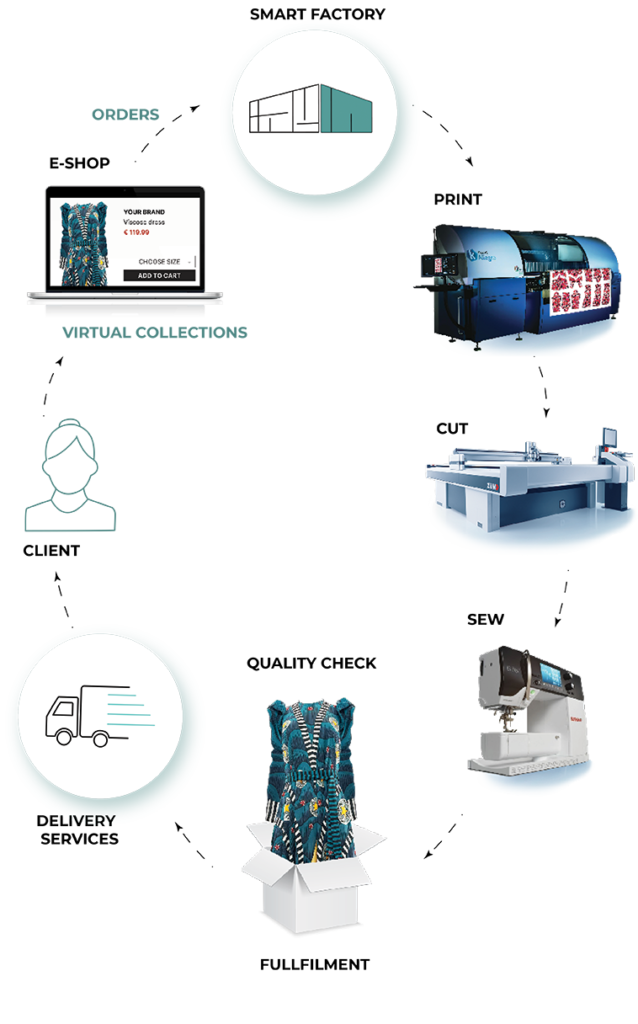 Contact our sales team for more information
Why print with Print Logistic?
we use OEKO-TEX Standard 100 and GOTS certified materials
we print with no minimum order
we ship printed fabrics in 48 h
we provide the fighest quality prints
our print technology is sustainable
we offer bulk discounts and competitive prices